Which businesses need licenses?
Not all business activities in Hong Kong require licensing or permits. However, the following businesses require licenses to operate:
Import/export business
Financial institutions and services company
Employment agency
Travel agency
A restaurant
Education business
Event management company
A retail shop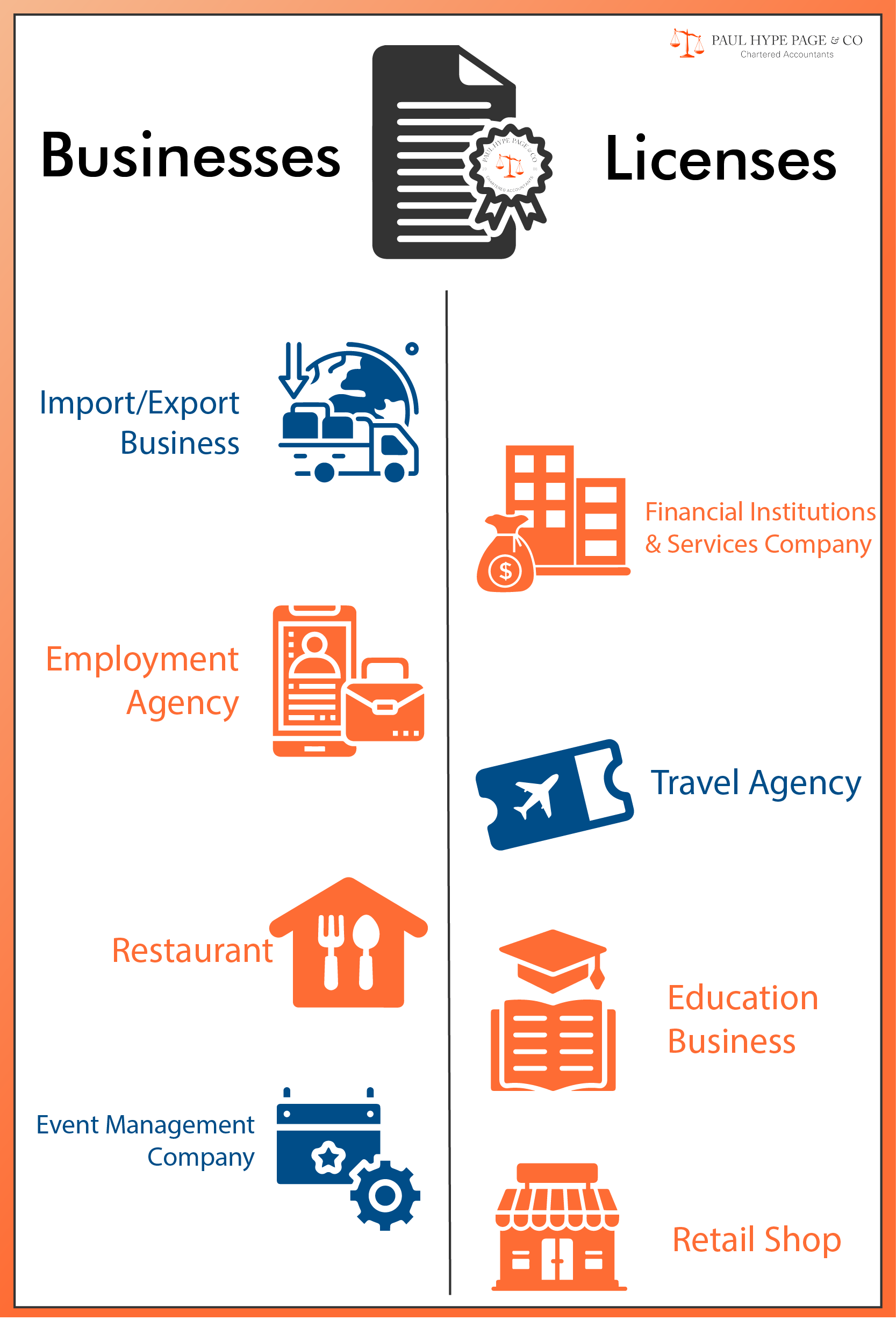 License to Operate an Education Business
Setting up and operating an educational institute in Hong Kong is lucrative and therefore attractive to foreign investors. Thus, various learning institutions are setting up in Hong Kong annually by individuals or foreign companies. Some of the learning institutions that are set up in Hong Kong include among others, vocational centers, childcare centers, kindergartens, and nurseries. Nonetheless, all these institutions require licensing to operate.
If you wish to set up any learning institution in Hong Kong then you need to obtain a Certificate of Registration of School from the Education Bureau of Hong Kong. The term 'school' does not apply to non-academic institutes that offer practical, hands-on learning experiences such as cooking courses, hair styling, pet grooming courses, among others.
Licensing pre-requisites
Suitable school premises. You will have to obtain the following clearances: Town Planning Board Clearance, Land Registry Clearance, Fire Service Department Clearance, Buildings Department Clearance and Housing Department Clearance (only if the premises are in a Housing Estate or Commercial Building)
Maximum number of students permitted in each class
School name
School manager
Size of classrooms
Qualified teaching staff
License to Operate an Event Management Company
Setting up an event management company in Hong Kong involves only one major step, the company incorporation. There are no business license requirements for operation. However, event managers may be required to apply for certain activity-specific licenses or permits. This will depend on the category of events you specialize in. Events can be classified into the following:
Meetings, conventions and conferences
Exhibitions, indoor events and concerts
Outdoor events, sporting and community
The following are types of permits for events a management company and requirements:
Certificate of Advertising Materials issued by the Television and Entertainment Licensing Authority to display any advertising materials or film
Certificate of Approval issued by the Television and Entertainment Licensing Authority to conduct public screening of a film.
Amusements with Prizes License issued by the Television and Entertainment Licensing Authority to enable the organization of games with prizes.
Lottery License issued by the Television and Entertainment Licensing Authority for one to organize or conduct a fund-raising lottery ticket sales for charities and non-profit making organizations.
Food Factory license which is issued by the Food and Environmental Hygiene Department to operate a food stall or kiosk during an event.
A temporary Food factory license is issued to those intending to sell pre-cooked food at an event.
The applicant must submit an application form along with a copy of the proposed layout plan of the premises. If it is a corporation which is applying, the following documents must be submitted: a copy of Articles of Association of the Company, copy of Business Registration Certificate, certified true copy of Notice of Situation of the registered Office, certified true copy of the company's most recent annual return, a written resolution passed by the Board of Directors to authorize a person to act on behalf of the company to deal with licensing matters with FEHD; and a notice of Acceptance of the Authorization signed by the authorized representative.
License to Run an Employment Organization
It is also referred to as recruitment, staffing, placement or manpower agency. In order to provide recruitment and placement services to other employers, one is required to obtain a license to run an employment organization for the department of labor. These organizations deales with workers from areas such as construction, domestic/office cleaners, foreign domestic employers, office workers &foreign staffing companies. Any company or person who undertakes a job placement business requires the employment agency license.
The license validity is one year from the issued date and is renewable before the expiry date.
An employment agency may be granted a Certificate of Exemption from the Commissioner for Labor under section 52 of Employment Ordinance; when that happens, you are exempted from the license application.
Pre-requisites for Employment Organization License
Nominated operator.
The operator is responsible for the day-to-day management and operation of the agency.
Placement of overseas domestic workers.
The staff of an employment agency involved in the placement of overseas domestic workers must comply with the regulations concerning the employment of domestic helpers from abroad.
License to Operate a Travelling – Related Organization
Organizations that offer travelling or tour services need a 'Travel Agent's License' from the Commerce and Economic Development Bureau. Below are activities you can engage in when in possession of the travel permit:
Organizing a group tour or package tour
Selling or arranging tickets for transportation
Accommodation in hotels or resorts
Pre-requisites for licensing:
A complete Travel Agent's License application form
A statement of your particulars form
Hong Kong Identify cards or travel documents
TIC Membership Certificate
Travel Association Membership Certificate.
License to run a Restaurant
Running a general restaurant business that deals with foods and drinks requires a license from department of food and environmental hygiene.
In addition to this, a business person who wants to include liquor in the restaurant will have to obtain a licence from the board of liquor licensing. This license is considered valid only if the restaurant owner has a valid restaurant license. And if the restaurant owner decides to expand and include more services and commodities, he/she will need to obtain permits or licenses for the following activities:
Storage or Manufacture of dangerous goods like alcohol that are not meant for immediate usage/consumption.
Establishing a karaoke in the restaurant and its environment.
Using the outside of your restaurant for dinnig related services.
Iimporting frozen poultry, meat or both.
Baking for sale at your restaurant or any other area.
Manufacturing, preparing, further process or packing food for human consumption away from the premises.
Selling food or drinks using a vending machine
Selling raw foods that are restricted foods such as oyster, meat, cut fruit, sashimi and Shushi
Licensing pre-requisite
Before applying for this license, one must first finalize their place of retail operation as the authorities will first inspect the premises to approve the license.
License to run a Retail Shop
Requirements to license retail shops vary depending on the goods being sold or services being offered. Below are examples of retail ventures that require licensing:
To operate a store that deals with Chinese herbal medicine. This license is obtained from the health department.
Operating a store that deals with substances deemed poisonous such as pharmaceutical drugs, cosmetics or medicine in general. This license is also obtained from the health department.
Operating a retail shop/store that deals with pets and related accessories. The license is obtained from the department of agriculture that deals with activities related with fisheries and conservation.
The good news for investors is that not every business requires a business license or permit. And these licenses and permits take between 2-8 weeks to get approval. Applicants for provisional licenses may approach in person over the counter at any of the three License Issuing Offices to compete the procedures issued within one working day.
Business License Requirements for Other Businesses FAQs
Can I apply for a license before setting up my business premises?
Timothy
2020-10-13T08:56:00+00:00
Some businesses cannot be licensed before inspection of the premises to ensure they meet the required safety or health standards. For example food dealing businesses such as restaurants or entertainment events which are going to serve food.  
Share This Story, Choose Your Platform!