Benefits of relocating your business from Hong Kong to Singapore
Singapore has a robust economy
The country enjoys a well-founded free market economy that is grounded on trade, finance, and manufacturing. These services represent 75% of the country's total GDP. Further, the sector employs a total of 80% of the entire workforce in Singapore. It is, therefore, one of the most successful sectors of the country's economy. Through the robust economy that trade and manufacturing sectors hold, Singapore has recorded relatively lower unemployment rates with low inflation rates. Besides, it has better planning governance that gives foreign investors better deals to make their investments in the City-State.
Favourable Taxation System
Singapore has one of the world's simplest, relatively lower and rational taxation system in the world. It uses a tiered system of taxation for both corporate and personal taxes. Further, newly incorporated companies in Singapore enjoy tax break for a grace period of 3 years from the time of incorporation where they pay 0% taxation for the first SGD 100,000 profit that they make. The tax rate rises gradually up to 20% for the incomes above SGD 320,000
Singapore Avoids Double Taxation
The state has a vast extension of the network of Avoidance of the Double Taxation Agreements (DTA) with more than 50 countries globally. Singapore made this step to give foreign investors a good working rapport so that they do not suffer the double taxation. Besides, it gives Unilateral Tax Credits to the investors of citizens who do not have DTA. Hence, the taxation system of Singapore is not likely to suffer from double taxation.
Ease of Incorporating and Operating Singapore Company
Singapore has an efficient and corrupt-free regulatory framework for incorporating a company. The World Bank survey has ranked Singapore as a number country with the ease of doing business globally for nine consecutive years. The compliance requirements are simple, and the incorporation process takes 2-3 working days. PHP services will substantially assist you to incorporate your business in Singapore.
Geographical location
Singapore's geographical location is central to other Southeast Asia countries, making it accessible to over 3 billion people residing in the content. Besides, Singapore has one of the busiest ports in the world. Other countries country, China, Malaysia, and Australia are only a few miles away from Singapore, making a rich market base.
Infrastructural developmentSingapore boasts some world-class infrastructures. The country has a modern airport, highway system, and subways that improve the transport system. Transport contributes a lot to the movement of people and goods, thereby making trade easy and improving the economy.
Some of the benefits include a skilled and knowledgeable workforce with competitive wages, a corruption-free environment, the professionalism of the workers and citizens, among others. Therefore, if you were not sure whether to take the step and make an investment and relocate your business from Hong Kong to Singapore then at least these facts will help you in making a move and explore the business-friendly environment that Singapore enjoys.
If you are planning to relocate your business from Hong Kong to Singapore for whatever reasons, then here are some simple facts that you should equip yourself before making a move.
The Shareholding Structure
When you are planning to shift your business from Hong Kong to Singapore, then you should reconsider restructuring the shareholders. Maintaining the same shareholders that your business had in Hong Kong will make the liquidation process complicated. Hence it would help if you worked towards acquiring completely new shareholders for your company.
Capitalization of the company
Singapore does not have a strict requirement on the amount of capital that is required when doing business. We can say that the minimum capital needed for doing business in Singapore is $1. But, this might not be practically sane since a company has a chain of activities that require finances for it to operate. Factors that determine the amount of capital that one requires to carry out a business include;
The number of employers; Your new Singapore business will be obliged to pay all the employees their wages and benefits as per the requirements of the Labor Department.
Suppliers; Depending on the type of business that the company you are shifting from Hong Kong to Singapore is going to conduct, you might involve suppliers. These are the stakeholders who are providing your business with relevant goods and products that you intend to sell.
Products that the business is dealing; Every industry requires a given minimum amount of capital to enable you to operate smoothly. Besides, depending on the industry, you will have to acquire relevant licensing from the relevant authorities in Singapore. Again, PHP will help you obtain the relevant licensing and other permits to enable you to manage your business.
Other stakeholders; Besides, other activities like seeking a bank loan will require that the business affords a certain amount of minimum amount of capital. Generally, the amount of capital that your new Singapore business requires will purely depend on the activities and stakeholders. Suppose you are wondering how much capital you will need when shifting your business from Hong Kong to Singapore. In that case, you should contact PHP services and get all the detailed information and advice on the exact capital requirement for your business.
Company Directors and Secretary
All Singapore companies should have a director who is a resident of Singapore and a secretary who resides in Singapore. A natural person must hold both positions. One person can act in the capacity of both secretary and director, and the person must be a Singaporean citizen. If you have trouble finding a professional who can suit your needs for the position, then PHP services can come to your aid to help you secure professional individuals.
Government Assistance available
One of the ways to plan a shift for your business from Hong Kong to Singapore is to have a conversation with the Economic Development Board (EDB). It is a government body that has roles of enticing foreign investors to venture into Singapore Market. Depending on the size of your company, your plans and business we can guarantee your assistance from the Singapore government in the form of tax incentives and cash grants available. PHP will again help you with plans and introduce you to the EDB since we have an excellent working relationship with the EDB.
Choosing your business entity 
You have to choose a business name under which your business will operate. If you wish to retain your Hong Kong business name when shifting to Singapore, then it must pass all the requirements, including name search. 
You should note that the Singapore Companies Act governs the limited companies in Singapore and it must comply with all its laws that include;
A minimum of one shareholder,
The company must have a physical address,
Must have at least one director who is a resident, and
Paid-up capital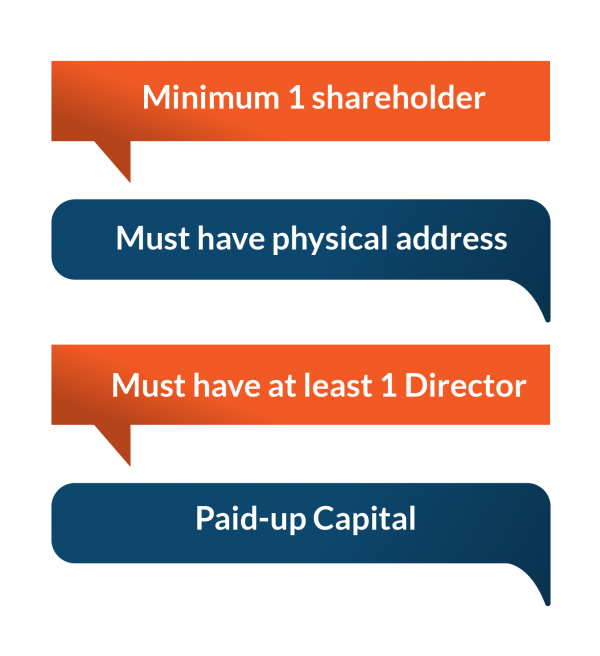 Opening a Bank account
After incorporating your business, you will have to open a bank account in Singapore. You have the freedom of choosing from a variety of local as well as international banks. However, if you want to make things simple, you can opt for Aspire, a Neobank that operates in Singapore, Indonesia, Vietnam, and Thailand. It is free to open an Aspire Business Account. Apart from that, there are no monthly fees, fall below fees, or FAST transfer fees. No minimum deposit is required as well.
With Aspire, you can have fast and simple access to financial services for your business operations anywhere and at any time through your mobile phones. The highlight of signing up for an Aspire business account is their cashback feature. You can get cashback for all your online marketing expenses (e.g. Facebook Advertising) and your expenditure on "software as a service" (e.g. Mailchimp).
If you are keen, you can open the account entirely online with Paul Hype Page. Check out more Aspire features on www.aspireapp.com
Conclusion
The process of shifting your Hong Kong Company to Singapore might be easier than you thought if you contact professional PHP services. We are familiar with the business environment of both countries, and hence we will help you decide, incorporate, and obtain relevant licensing to permit you to operate your business in Singapore.
Relocating Your Business from Hong Kong to Singapore  FAQs
Will Have I to incorporate the company I am shifting to Singapore from Hong Kong?
Timothy
2020-10-21T07:03:26+00:00
Singapore is one of the wealthiest countries globally since its governance was built on strong economic ties and financial policies. Hong Kong excels at Cantonese foods. Both countries were under British colonies, and they share essential financial systems and trade. However, their business structure is completely different. 
Share This Story, Choose Your Platform!