Requirements for a Hong Kong Company Secretary
A company secretary must be a natural person whose residency is in Hong Kong. If the Company Secretary is a corporate body, the corporate body must be one with its branch or registered office in Hong Kong. Choosing a corporate body as a company secretary will however deny you the opportunity to be listed on the Stock Exchange of Hong Kong.
A company secretary cannot be the sole director or the sole shareholder of that company.
The company secretary, as a natural person, must be academically qualified and have a membership with the Institute of Chartered Secretaries of Hong Kong. He/she must also be a certified public account and be a solicitor.
A company secretary must be familiar with company laws and Listing Rules. Also, he/she must have relevant experience.
A foreigner serving as a company secretary in Hong Kong
In Hong Kong, the individual who serves as a company secretary in a company must be a resident of Hong Kong. As a local, you naturally qualify as a resident of Hong Kong. However, if you are a foreigner, you must be a Hong Kong's permanent resident to qualify to serve as a company secretary.
Who can be a permanent resident in Hong Kong?
Those who were born in Hong Kong as Chinese nationals.
Chinese nationals born outside Hong Kong but are permitted by the law to live in Hong Kong and have been living in Hong Kong for 7 years.
Chinese nationals whose father or mother was already a permanent Hong Kong resident at the time of their birth.
Foreign nationals who have lawfully lived in Hong Kong for 7 years and have chosen Hong Kong as a permanent residential place.
Any national who has no residency that can be traced to him/her from anywhere except in Hong Kong before the establishment of the Special Administrative Region of Hong Kong (HKSAR).
Otherwise, if the person is above 21 years, even though they were previously considered as permanent residents because of their parent's permanent residency status, he/she must process their permanent residency status in Hong Kong.
How to qualify as a Hong Kong resident as a foreigner?
Everyone in Hong Kong is qualified to attain a legal status of permanent residency even if they do not have a Chinese origin. As a foreigner, If you have been staying in Hong Kong for a continuous 7-year and have been paying taxes, you are qualified to apply for a permanent residency.
The roles of a Company Secretary serving in Hong Kong
Organizing and participating in the company general meetings of shareholders and board of directors. He /she is responsible for preparing the agendas of the company meetings and also responsible for recording the minutes of the meeting. He/she then that the appropriate decisions are made.
A company secretary is responsible for keeping statutory books. He /she is responsible for maintaining all the statutory documents of the Hong Kong company, records all the changes to the statutory records, ensures company accounts and reports are published and distributed to the shareholders and directors.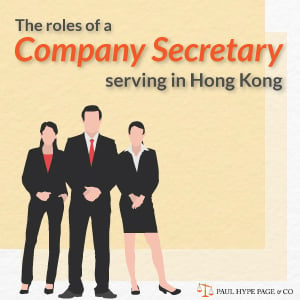 A company secretary notifies the directors and shareholders of any changes affecting the company such as change of company name, relocation of Registered Address of the company, changes about shareholders in terms of addition or removal or sale/transfer of shares. Any changes must be reported to the appropriate authorities, failure to which the company is liable to penalties from those authorities as stipulated by the laws governing companies.
A company secretary ensures that the company fulfills its tax obligations to the Hong Kong government. The first step here is to ensure that the company details are properly captured at the Department of Inland Revenue. He/she then ensures that taxes are properly filed in time. In case of any tax issues, the company secretary seeks assistant on behalf of the company from any competent persons.
A company secretary performs administrative roles /assignments such as finding insights necessary for company incorporation and giving appropriate advice to the board of directors in the Hong Kong Company.
A company secretary is also responsible for deregistering a Hong Kong-registered company. When you finally don't want to operate your business in Hong Kong, you will need a company secretary to do all the necessary paperwork, because he/she is the only person who can officially be the middleman of your company and the regulatory bodies.
Significances of a Company Secretary
A Company Secretary is a gateway to successful company registration. Without a company secretary, your business cannot be successfully incorporated.
A Company Secretary is a middleman between your company and the Hong Kong government. He/she works with the regulatory bodies. These regulatory bodies are The Registrar of Companies, the Stock Exchange authorities, and Securities and Futures commissions.
A Company Secretary ensures you comply with the regulation and statutory laws of Hong Kong companies.
A Company Secretary ensures that you are listed on the Stock Exchange of Hong Kong.
A qualified Company Secretary ensures your company thrives by providing appropriate advice and continuously researching for better ways to achieve your company's strategic goals.
Summary
Everyone wants to feel a sense of belonging and trust. It is the same in the business world. Therefore, many foreign business owners grapple with the fact that they may not be allowed to appoint one of their own as the company secretary of their company in Hong Kong due to the residency status. However, these foreign investors can appoint a corporate body to serve as their company secretary
Is a foreigner allowed to serve as a company secretary in Hong Kong? FAQs
What are the registration requirements for those who serve as a Company Secretary in Hong Kong?
Timothy
2021-06-10T06:46:39+00:00
For a natural person to be appointed as a company secretary, he/she must present their identification documents such as a passport or a Hong Kong Identity Card. If they have changed their names, then they also provide documentation for the former names. He/she must also provide an address.
Share This Story, Choose Your Platform!